North Carolina Gov. Pat McCrory doubles down on transphobia in fearmongering campaign ad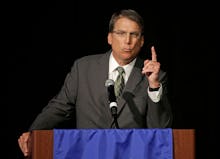 North Carolina Gov. Pat McCrory doubled down on his state's transgender bathroom law in a new ad for his tough re-election bid, saying the law — which requires transgender students to use the restroom of their sex assigned at birth — protects everyone's "privacy and safety."
"You know, when we were raising average teacher pay, creating new jobs and cutting taxes, other folks were actually pushing to make our schools allow boys to use the girls' locker rooms and showers. Are we really talking about this?" McCrory asks with an incredulous tone in the 30-second spot. "Does the desire to be politically correct outweigh our children's privacy and safety? Not on my watch. Our kids and teachers are my priority. This is North Carolina. Let's do what's right."
There is no evidence to support the claim that transgender-inclusive restrooms are a threat to public safety, and places that have implemented inclusive bathroom laws are reporting no problems stemming from them.
McCrory currently trails his Democratic opponent, North Carolina Attorney General Roy Cooper, by an average of 3.6%, according to RealClearPolitics.
Polling shows that McCrory's deficit comes amid voter opposition to the transgender bathroom law.
A recent survey from Monmouth University found that 55% of North Carolinians disapprove of the law. And a whopping 70% of voters feel the law has been bad for North Carolina's national reputation, according to the survey.
Those numbers make it unlikely that McCrory's continued defense of the law will earn him support in the state.
The law — currently mired in legal challenges — has lost the state business, including the 2017 NBA All-Star Game. The NBA cited the transgender bathroom bill in its decision to move the game from Charlotte, North Carolina, to New Orleans.
"McCrory is trying to take control of the HB2 debate with a new TV ad," Patrick Murray, the director of the Monmouth University Polling Institute, said in a statement accompanying the survey. "As of right now, though, North Carolina voters feel it has hurt the state, which is helping Cooper's bid to unseat the incumbent."