Maine voting guide: How to register to vote, deadlines and everything you need to know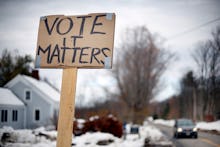 Maine is among the minority of states that still requires voters to register the old-fashioned way: through the mail or in-person. America's most northeastern state does not allow voter registration online. 
To register, voters must fill out a voter registration card. They must be at least 17 years old and live primarily in Maine. Voters must provide their social security number or drivers license number with their registration. 
Voter registration through the mail closes Oct. 18 for the November election. Voters can register up to election day at their town office or city hall.
While Maine typically votes Democratic in presidential elections, it has a conservative bent. Gov. Paul LePage, a Republican, is a Donald Trump supporter, though Republican Sen. Susan Collins recently said she will not vote for Trump, although she isn't voting for Clinton either. Trump has campaigned regularly in the state. An early August poll gave Clinton a 10-point lead in Maine.