Voters' guide 2016: Here's how to register to vote in New Hampshire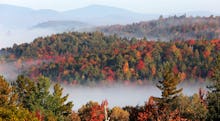 While the Granite State does not allow online voter registration, New Hampshire residents have several ways to register to vote. 
New Hampshire offers voter registration on election day at their polling place. Residents can also register up to 10 days before election day in the town or city clerk's office where they live. 
There is no minimum period of time residents must live in New Hampshire to be eligible to vote. But residents must register with the clerk's office in the city or town where they "sleep most nights of the year."
Residents can also register with the community's "supervisors of the checklist." The supervisors are required to meet on the Saturday 10 days before each election. 
Polls show Hillary Clinton with a clear lead of nearly eight points over Donald Trump in the contest over New Hampshire's four electoral votes.