Lady Gaga album rumors 2016: Here's what we know about Gaga's collaborators and new sound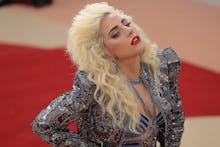 Friday, Lady Gaga is set to return with her first solo album single in three years, called "Perfect Illusion." The single is set to bring together an all-star cast of producers from a wide-ranging spectrum of the pop universe, including Mark Ronson, best known for being Amy Winehouse's musical muse and architect of the smash single "Uptown Funk," Kevin Parker of the psychpop project Tame Impala and Bloodpop, the producer behind Justin Bieber's "Sorry."
The rest of the album's contributors — still just rumored at this point — come similarly far-flung corners of the pop sphere. The record still doesn't have a name at this point, but everything we know is pointing to it being an absolute sonic riot. It seems she'll be alternately going back to her roots and pushing ahead into uncharted territories. 
Here's what we know so far:
Lady Gaga is working with the producer behind her earliest hits.
If it ain't broke, why try to fix it? Gaga is working again with her once go-to producer RedOne, co-writer and producer of Gaga's very first hits "Just Dance," "Poker Face" and "LoveGame." For the new album, RedOne says the pair have already cut eight tracks, though he's not sure if they'll make the cut. 
"It's up to her: It's her album, it's her creative process, it's her world, and I'll be happy for her whatever way she takes it," RedOne told People, before detailing the tracks' vibes: "It's a mixture of classic music and futuristic, too — I didn't want to go too far from what she is. We kept it [similar to] what Gaga is, what she's done all these years. It's special." 
She's connecting with pop's living legends.
Gaga's been in the studio working with two of pop's most highly respected songwriters, Elton John and Paul McCartney. She worked with the latter on "one of his secret projects," as she wrote on her Instagram, which seems to be a soundtrack tune for McCartney's upcoming animated film, High in the Clouds. Several publications are already starting to speculate the two have something in the works for Gaga's album as well. Mic has reached out to McCartney for more information, and will update as the story develops.
As for Elton John, he's been a bit more forthcoming about what the two have been working on together. He told Zane Lowe of Apple Music's Beats 1 that he was heading into the studio to write with her, and he had already heard some of what she's working on. 
"I've heard two songs, which are killer. They're just great songs," he said. "It's like back to the early stuff of hers — like 'You and I' and the Bruce Springsteen one, as I always call it, 'Bad Romance'." 
She's planning to put in some work resurrecting disco.
In August 2015, Gaga shared a snippet of music that critics said sounds like Gaga singing a cover of Andrea True Connection's 1976 disco hit "More, More, More." If it's a snippet of the new album, we may have another significant contribution to the disco revival on our hands.
Last October, Gaga collaborated with Chic's Nile Rodgers to update hit track "I Want Your Love" for a Tom Ford ad campaign. She's reportedly been contributing to the band's new album, and it's likely the two are working on something for Gaga's fifth album. 
Talking about his new album and Gaga collaborations, he played coy with the Guardian. "I can't tell you about the Lady Gaga music, either, but I can tell you one thing — it's funky," he said. 
She's working with godfather of electronic dance music Giorgio Moroder.
In an interview with Pop Justice, one of electronic dance music's pioneers, Giorgio Moroder, said he was due in the studio with Gaga soon. He had some rough tracks he was going to share, but didn't know how the pop star planned to run the session.
"I have about five or six tracks, just basic ideas," he said. "Drums, keyboard, bass. I'm going to be surprised, I think – I don't have a clue about the way she's recording. Will she play the piano? Will I?"
Every quote squarely put Gaga as the one controlling the direction. "I was hoping that maybe I can convince her to have one of the songs for my album," he said. "If I could convince her, well that would be incredible."
It's going to sound anything like Artpop. 
"I want the fans to be surprised," Gaga told Yahoo about the new album in December 2014. "But I will just tell you that it's a wonderful, soul-searching experience. And it's very unlike the last album in that way." 
Lady Gaga's fourth album Artpop, commonly referred to as "Artflop," is Gaga's least well-received of all her major releases, according to Metacritic. It's been panned by some of the artists biggest supporters, including Elton John.
"I made that album on the road," Gaga explained to Yahoo. "Artpop was, you know, the acid-making record. And this record is like — my old self as a cadaver. And I'm just, I'm operating on my old self."
Her acting has changed the way she approaches music.
In an interview with V magazine, Gaga explained how becoming the Countess in American Horror Story season five changed the way she's been approaching writing her new album.
"The show has really affected my voice, I have to say," Gaga said. "I'm using my listening from acting in my music more, which is crucial because it's music. Who knew I could listen even more? It's amazing to even talk about."
Acting helped the artist open up, and get some of the "recklessness."
"Here's what I will say: when I wasn't working on the show I was truly miserable because I had no safe house to get out any of my vices," she said. "Now I have a safe house for my vices, so when I'm making music I just have a lot more clarity. I have a little less of an instinct to be reckless with my music now because I'm reckless in other places."
It's resulted in a new album that will not be "riddled with a ton of pain" like Artpop. Her new one, will have "some of my pain" she said, "but it will be more than that ... when I get to the piano I'm in a deeper place already. I have something completely other to explore."