Here's how to watch the first episode of Donald Glover's FX series 'Atlanta' for free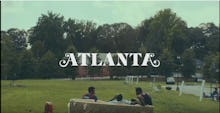 The consensus among critics so far is that FX's dramedy series, Atlanta, is one fall show definitely worth watching. Created by Donald Glover — whom some might know by his rap moniker Childish Gambino — Atlanta premiered on FX Tuesday night with its first two episodes. For prospective viewers already looking to play catch-up, the network has made the first episode available to watch for free on YouTube. 
In other words, you don't need cable or a TV to check out the pilot. If the early reviews for the show are any indication, viewers will be hooked. As Mother Jones described it in their review of the series, Atlanta is comparable to Netflix's highly praised comedy Master of None. 
"[Atlanta] provides an introspective look into the lives of millennial men navigating work, romance, and their own shortcomings as they become painfully aware of the people they've grown up to be," Grace Wilson wrote for Mother Jones. 
Atlanta follows Glover's character, Earnest "Earn" Marks, a meandering Princeton dropout. Earn approaches his rapper cousin, Alfred "Paper Boi" Miles (Brian Tyree Henry), about becoming his manager as he moves up in the rap scene. In turn, Earn hopes he can find his own purpose in life. 
Watch the pilot for Atlanta, which airs Tuesdays on FX at 10 p.m. Eastern, below.