Elizabeth Gilbert says she's in love with her dying best friend in a heartbreaking post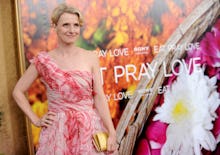 Eat, Pray, Love author Elizabeth Gilbert is used to sharing details of her personal life in her books and on social media, but in a powerful Facebook post shared on Wednesday, she opened up about the moving details of her relationship with her best friend, fellow author Rayya Elias.
Elias was recently diagnosed with pancreatic and liver cancer and following the diagnosis, Gilbert realized she was in love with her.
"This spring, I received news that would change my life forever. My best friend Rayya Elias was diagnosed with pancreatic and liver cancer — a disease for which there is no cure," Gilbert explained in the post. "In the moment I first learned of Rayya's diagnosis, a trap door opened at the bottom of my heart (a trap door I didn't even know was there) and my entire existence fell straight through that door."
Gilbert and Elias had been best friends for years, she said in the post, but, after Elias' cancer diagnosis, Gilbert discovered their relationship was something more:
"But something happened to my heart and mind in the days and weeks following Rayya's diagnosis. Death — or the prospect of death — has a way of clearing away everything that is not real, and in that space of stark and utter realness, I was faced with this truth: I do not merely love Rayya; I am in love with Rayya. And I have no more time for denying that truth." 
So Gilbert told her terminally ill best friend that she was in love with her. 
"I did what Rayya has taught me to do: I just started there," she wrote. "I spoke my truth aloud ... So. Here is where we stand now: Rayya and I are together. I love her, and she loves me. I'm walking through this cancer journey with her, not only as her friend, but as her partner."
This, Gilbert explained, was "why my marriage came to an end this spring." In July, in a separate Facebook post, she announced a split from her husband, who she met during the part of her life she chronicled in Eat, Pray, Love.
One of the reasons Gilbert decided to go public with her relationship with Elias was because "I need to be able to walk into any room in the world with Rayya on my arm, feeling relaxed enough to stand comfortably in simple openness about who we actually are to each other," she wrote:
"Here's what it comes down to for me: I need to live my life in truth and transparency, even more than I need privacy, or good publicity, or prudence, or other people's approval or understanding, or just about anything else," she said. "So that is why Rayya and I have decided together to speak up publicly now — both about her cancer and about our love for each other. It's for the sake of our own integrity, but it's also intended to make our lives simpler."
Gilbert's announcement is less a "coming-out" than an open and honest discussion of where her life is right now. She never defines her sexuality — only describes her relationship with Elias and her need to share the truth.
Elias, for her part, responded on her own Facebook page by sharing Gilbert's post along with the message: "Dear Friends, If you've been wondering where I've been, below is my/our story of the past few months. All is true and filled with love. My heart is full!"
Read Gilbert's full post below: