'RuPaul's Drag Race All Stars 2' recap: Alyssa Edwards makes a shocking decision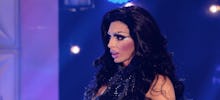 When RuPaul and Logo first unveiled the trailer for RuPaul's Drag Race's second All Stars season, the reveal came with a twist. Instead of the bottom queens lip-syncing for their lives this season, the top queens would be lip-syncing for their legacy — and choosing which bottom queen goes home.
Immediately after Ru revealed the twist in the season's first episode, there was much consternation among the contestants about how to use the format. Most agreed that using judges' critiques as a guide and sending home the poorest-performing queen each episode was fairest. One queen, Tatianna, was more open to strategic eliminations — but then she was sent home after performing poorly in the second episode.
But even with Tati gone, it was only a matter of time before a queen would go outside of the established system and send someone home for a different reason. So in the third episode, Alyssa Edwards, dancing teacher and drama queen from Mesquite, Texas, makes a big move.
Who does she send home — and who does she spare? Read on to find out.
This week's challenge is a familiar one to fans who have watched Drag Race the past two seasons: a lip-sync extravaganza. In season seven, the queens performed an in-flight safety video; in season eight, they took part in a Pitch Perfect parody appropriately titled Bitch Perfect.
In All Stars, each of the queens must perform as a great woman from history — well, herstory, as the case may be. This ranges from Eve (Alaska) to Catherine the Great (Ginger Minj) to Princess Diana (Katya). These challenges are a fun invention: Lip-syncing is such a key part of drag, and to see each queen show their stuff outside of a lip-sync for your life/legacy scenario is a blast.
The workroom and rehearsal footage is mostly just storyline setup, but it does give us three things: One, we learn Phi Phi O'Hara thinks GIF is pronounced like an acronym — as in, G-I-F.
Two, we see Roxxxy Andrews make this face, which is easily the most endearing Roxxxy Andrews has ever been.
Three, we get further development of Phi Phi's villain edit this season — which we've detailed the entirety of in another post.
But the main attraction of this episode is the actual lip-sync performance, and what a thing it is to watch. Everyone is on their A-game, and there's not so much as a flubbed word. Technically, it's practically flawless.
Alyssa is the obvious standout as Annie Oakley, a character that isn't too much of a stretch for the native Texan. Nonetheless, she grabs every bit of spotlight and uses it for all it's worth.
Joining her in the top two this episode is Detox, who is a ton of fun as Marie Antoinette. Detox has a signature lip-sync technique where it looks like she actually unhinges her jaw — a trick she used to great effect in season five.
Her deployment of that technique helps her stand out in this challenge, but what really sends her to the top is her runway presentation. Her drag-of-the-future look is a marvel — her body is painted entirely silver, using strips of white for a nude female illusion. It's one of the best Drag Race looks ever.
Most of the other queens are safe this week, and really, the quality is high across the board. But we'll give a special shout-out to Roxxxy Andrews, who plays Eva Peron with glee as a Madonna-loathing caricature who loves drama. Guess she didn't appreciate the Evita movie.
The bottom two are Ginger, who killed it as Catherine the Great, and Katya, who is the only disappointment as Princess Diana. Both miss the mark on the runway, turning out fairly stock futuristic outfits rendered in silver and black. It's a shame for Ginger, both since Katya was far and away the worst and because Katya is her closest friend in the competition.
Katya's off her game this week, getting in her head and turning out what judge Michelle Visage calls a "solemn" performance as Diana. Coming off her success portraying Björk last episode, the fall from grace is hard to watch, as is the suggestion that one of the season's best queens is about to go home. After talking to Detox in deliberations, who seems all but certain of who she'll eliminate, Katya seems resigned to her fate.
Indeed, safe queens Roxxxy and Phi Phi agree that Katya is the obvious choice — based on the criteria they've been using so far. But then Alyssa calls Katya over, and surprisingly, Alyssa seems open to discussion. She needs to see that Katya really wants to stay in. "I see the emotion in her eyes," Alyssa says, despite Katya's reserved demeanor. "She wants to be here."
Ginger also clearly wants to stick in the fight, Alyssa notes, and Ginger does express that she has a fire in her to keep competing. But, Alyssa notes, Katya was just in the top. Alaska, Roxxxy and Phi Phi begin to worry if Alyssa is going to stick to the plan.
Spoiler alert: They're right to worry. "I'm gonna follow my heart on this one," she says as she makes her decision.
So Alyssa and Detox lip-sync to Taylor Dayne's "Tell It to My Heart," and it's the best we've seen this season. Both queens won two lip-syncs in season five, and although they never actually faced off, Detox eliminated Coco, and Coco eliminated Alyssa. By transitive logic, you'd assume Detox would have this in the bag. But Alyssa isn't the same Alyssa she was in season five.
Who knows how the season will end, but this season is so far proving that of all these queens, the one who can really fulfill Ru's shoes is Alyssa. Her performance in the first episode was an entertaining range of all her talents. Her Snatch Game was the kind of hilarious idiocy that Alyssa has learned how to harness. And both her lip-syncs this episode, in the challenge and for her legacy, are tight and focused. She's the real deal, and hers is a deserved win.
Roxxxy and Phi Phi look nervous when Alyssa wins, presumably thinking she's going to save Katya. And indeed, after insisting that being in the bottom can be "a one-night kind of gig," Alyssa eliminates Ginger. Thus, one of the most entertaining performers in this challenge gets sent home because of a mediocre runway outfit, bad luck and another queen changing the game.
How will the other queens react to Alyssa breaking rank? Will this put a huge target on her back moving forward? And when is this damn revenge twist going to come into play? The fourth episode of RuPaul's Drag Race All Stars 2 airs Thursday at 8 p.m. Eastern on Logo and VH1.