Many Americans are giving up on the idea that they'll ever get to retire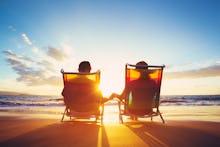 More and more Americans appear to be resigning themselves to the notion that they'll never be able to stop working. 
In fact, 70% of them say they plan on working for as long as they can, according to a new survey from Bankrate and Princeton Survey Research Associates International. 
Most interestingly, the number of participants who responded that they hoped to retire by their fifties fell dramatically since 2007 — the last time the survey was conducted — from 27% to just 13%. The number of people worried about outliving their retirement has also climbed — by about 10%. 
Incidentally, Americans might not be so unhappy with this fate. 
"Working during retirement brings a lot of benefits," Bankrate retirement analyst Jill Cornfield said in an email.
"It's not just the money," Cornfield said. "When you can work as a consultant or find some part-time gig, it really helps you stay sharp."
And there's data to back that assertion up: A recent study from Oregon State University released in March found that the mortality rate for those who delayed retirement by a year was 11% lower. 
When we work, the thinking goes, we're getting social stimulation and solving problems, which help our brains work better. 
"Thinking, problem solving, cognitive faculties, social and interpersonal engagement — so you have relationships that you've formed with co-workers, both personally and professionally," Robert Stawski, one of the study's authors. told NPR, explaining the benefits of ongoing work. 
While there are clearly some benefits to retiring early, there might be a more depressing factor at play as well. According to a spokeswoman for Bankrate, the last time this survey was conducted was in April 2007.
The effects of the Great Recession really began to take shape just four months later, in August 2007; when the crisis began to affect international banks, it caused a loss of faith in the very system most retirement plans depend upon. 
Since 2007, wage growth still hasn't fully recovered. 
Until wage growth returns to its 2007 levels, we won't be able to tell whether Americans really are excited about a working retirement, or whether they're just putting on a happy face about the fact that they'll never be able to stop working.