Amazon's premature iPhone 7 excitement may confirm the loss of the headphone jack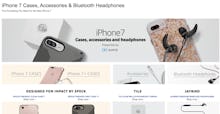 We are less than an hour out from Apple's keynote event and there are very few secrets left. Amazon just launched a webpage dedicated to the iPhone 7, Gizmodo first spotted.
The webpage is littered with cases, Lightning cords and — drum roll — wireless headphones, further confirming that Apple is about to bid adieu to the headphone jack. The images also may confirm the anticipated dual-lens camera. At time of writing, the page is still up.
This isn't the first iPhone 7 leak — a Hong Kong Apple accessories page also accidentally included the names of the forthcoming iPhone 7 and iPhone 7 Plus. 
Everyone, relax.