Apple just spoiled the iPhone 7 Plus on Twitter before Tim Cook unveiled it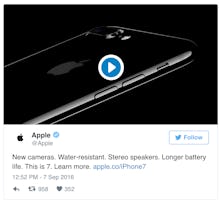 Apple is expected to release the iPhone 7 and iPhone 7 Plus at today's keynote, but the company has already blown the lid off its new product — in a now-deleted tweet. 
Check out the glossy "piano black" color that will likely appear as a premium iPhone 7 Plus option. Piano black and matte black will replace the space gray on the iPhone 7 line. In addition, according to the tweet, we'll see an updated camera, water resistance, "stereo speakers" and "longer battery life."
The tweet is now down, but here's the phone in all its Batman-esque glory: