Nintendo is coming to iPhones, Apple announces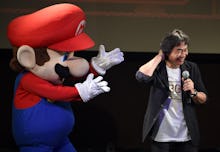 At the Apple Event on Wednesday, CEO Tim Cook made a stunning announcement: Nintendo and, specifically, Super Mario, are coming to iOS. The new game, soon available in the App Store, is called Super Mario Run. 
Cook brought out acclaimed game designer Shigeru Miyamoto — creator of the Super Mario franchise — to showcase the new app. Super Mario Run appears to utilize a Temple Run-style of gameplay, with options for both single-player and multiplayer battle mode against friends or strangers. 
Miyamoto assured the audience that the game will be available for this upcoming holiday season, though no specific release date or price was set. 
Sept. 7, 2016, 1:24 p.m.: This story has been updated.