This is the most popular breakfast sandwich on the internet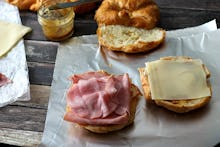 What makes for the perfect breakfast sandwich? Is it the crispiness of the bacon? A runny yolk? An expertly toasted everything bagel?
When the internet has a say, there is one clear answer: 
This hot ham and swiss croissant recipe comes from Parrish, the author behind the blog Life With The Crust Cut Off — and it's the most popular breakfast sandwich recipe on Pinterest, according to a spokesperson for the site. The six-ingredient recipe has been saved more than 75,000 times, meaning that a whole lot of people felt the buttery bread and meat spread was worth a second look.
Perhaps the sandwich's simplicity is what gives it such star-power. Store-bought croissants, deli meat, sliced cheese and a couple of condiments are all you need to craft the morning pleaser. In other words, you don't have to know much about cooking to convince others you're a decent chef. 
It comes as no surprise that a breakfast sandwich has been pinned this many times — after all, Americans love their breakfast. According to a 2013 report from market-research firm NPD Group, breakfast sandwiches landed on the list of the top 10 most popular items Americans consume for breakfast. While sandwiches came in last at number 10, it was a noble achievement for the dish, marking it's first time being ranked since 1985, when NPD started tracking popular breakfasts.
Still, the group noted, breakfast sandwiches are more often purchased at restaurants or delis than made at home. One reason may be convenience, an aspect of food that's been on the rise since before the turn of the century. 
At least some Americans, it seems, have intentions to whip up a simple breakfast sammy at home. Join the crowd and find the hot ham and swiss croissant recipe here.