What are the chances Hillary Clinton will win the 2016 election?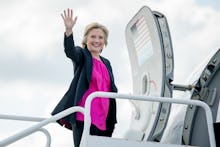 With two months to go, the race for the White House is in full gear. Depending on the poll, the numbers show both candidates within a few points of each other.
Democratic nominee Hillary Clinton would make history with a victory, becoming the first female president of the United States. Clinton enjoyed a solid bump in the polls after the Democratic National Convention in late July. But with her opponent, Republican nominee Donald Trump, increasingly refining his message to voters, the outcome of this election is anything but predictable.
Here's a look at how the election could shape out.
Favorability
The question of favorability differs from whether a voter will actually go to the polls and vote for a particular candidate. Voters might not like a candidate 100%, but will still vote for them, usually along party lines.
So while Hillary Clinton has low favorability ratings — at 41.2%, according to RealClearPolitics — that doesn't mean that voters won't vote for her in November. The upcoming presidential debates could help sway this number as voters get a chance to see Clinton go head to head with Trump.
Another factor at play that could help Clinton get to the Oval Office: President Barack Obama.
"Barack Obama's popularity may end up being the single most important factor in this election," Dean Debnam, president of Public Policy Polling, said in a press release. "Voters may not like Hillary Clinton but they know they like Obama's direction for the country a lot better than Trump's and that helps bring them along to the Democratic column."
Polling
A slew of recent polls show the nominees in a horse race. But as serious political watchers know, polls can be tricky.
A recent CNN/ORC poll showed Trump leading Clinton by 2 percentage points among likely voters across the nation. If you look at other indicators like FiveThirtyEight, which forecasts the outcome of the election based on polls and other data, gives Clinton a 67.9% chance of winning.
Whatever the polls say, the result on Nov. 8 will come down to electoral votes. Sabato's Crystal Ball at the University of Virginia predicts Clinton will win 348 electoral votes, more than enough to win.
Voter demographics
If elected, Clinton would be the first female president in U.S. history, so it's not much of a surprise that she consistently polls high among women. But according to the latest CNN/ORC poll, the gap among support of men and women is narrow: 53% of women back Clinton, which 54% of men said they want Trump.
Clinton leads with young voters, according to a recent USA Today/Rock the Vote poll. Among voters under 35, 56% said they support her, while 20% support Trump. Along racial lines, Clinton leads Trump among African-American and Hispanic voters 73% to 9%, according to recent data from Public Policy Polling.
"The margin has narrowed since her post-convention bounce, but Clinton is holding onto an underlying advantage over Trump among key voting blocs," Patrick Murray, director of the Monmouth University Polling Institute, said in a press release.