'Luke Cage' reviews: Here's what critics are saying about Marvel's latest superhero series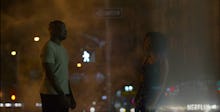 It may have great musical collaborations and an epic trailer, but most importantly of all, Netflix's latest Marvel superhero series, Luke Cage, has the hearts of critics. 
The early reviews for the first Marvel show with a black superhero lead are in, and the consensus is extremely promising for impatient fans. Per the critics, Luke Cage might not just be the best superhero series on Netflix, but one of the streaming service's best original shows thus far. When you consider the likes of Emmy-nominated series like House of Cards and Orange Is the New Black in that category, that's saying something. 
Ahead of the show's release later this month, here's a sampling of the early reviews from the show: 
Allison Keene shared her thoughts on the series and its main character for Collider: 
Like we saw glimpses of in Jessica Jones, [Mike Colter] gives Cage a sense of reticence mixed with righteous defiance that hits all the right notes for a hero who uses his strength only as a last resort, and he does so in low tones and with a casual confidence. Though Cage isn't always confident, he's extremely principled with a magnetic charisma, making him a kind of Captain America to this ragtag group of vigilantes. Though he may struggle to define his heroism and what it means for himself and Harlem, there are no complications for viewers. He is the hero we've been waiting for.
Evan Narcisse breaks down the show's celebration of black culture for io9: 
Luke Cage feels like many different swatches of blackness all at once. It's got humor, pathos, and rhythm that are distinct from the other Netflix Marvel shows. It's funkier and pulpier than either Daredevil or Jessica Jones. It has to be, because Luke Cage sketches out a sense of an entire community, one that's a symbol of how black people have thrived in a centuries-old cycle that's had them exoticized and disenfranchised.
Meanwhile, Kyle Pinion of Comics Beat gave high praise to the show's main antagonist, Harlem crime boss Cornell "Cottonmouth" Stokes (played by Mahershala Ali): 
One of the best aspects of each of Marvel's Netflix offerings is the richness of their villains, as both Fisk and Kilgrave proved to be menacing and mostly multi-faceted creations that blow away their big screen counterparts, save for Loki. But again, both The Kingpin and The Purple Man are well-crafted characters that have much to draw from, regardless of how exceptional both D'Onofrio and David Tennant's performances were. So when I say that Mahershala Ali's Stokes is easily their equal, if not even more richly defined, that achievement is a both a credit to what's on the script page and just what sort of meditative ferocity Ali is able to conjure behind this figure, who is at once terrifying and incredibly sympathetic. This is a character so vivid that, while being the clear antagonist of the series' machinations, one can't help but be amazed at the moral gray tones that he's swathed in. 
Dominic Patten's effective summary on Deadline: 
The world is also ready for one of the most socially relevant and smartest shows on the small screen you will see this year. In fact, with star power deluxe from lead Mike Colter and House of Cards alum Mahershala Ali as the villainous Cornell Cottonmouth Stokes, the 13-episode first season is one of the best shows on the air and on the horizon. 
Luke Cage will be available in its entirety on Netflix Sept. 30.