The Kanye West and Drake collaboration album we've been waiting for is "coming up soon"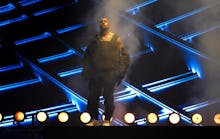 If Drake and Kanye West were to collaborate on an album together, the general consensus is that the internet would finally reach its breaking point. Rumors about the project have circulated for years — however, the potential of a Drake Kanye pairing is becoming more than just internet fodder, after Yeezy himself confirmed: It's "coming up soon." 
In an interview with Vogue, published Tuesday, West reveals that he and Drake have been working on an album together — though he didn't provide any specifics on the project. 
"We're just working on music, working on a bunch of music together, just having fun going into the studio," West said. "We're working on an album, so there's some exciting things coming up soon." 
But all indications are that the ardent fanbases should learn more from the artists soon, given the mysterious billboard that popped up in Los Angeles last month featuring West's G.O.O.D. Music and Drake's OVO Sound logos with the phrase, "Calabasas is the new Abu Dhabi." 
Moreover, a collaboration would be more than just an audacious pipe dream: It'd make sense stylistically. 
"Yeezus essentially invented the exultant, confessional raps Drake now regularly shoots to the top of the radio charts," Mic's Chris Riotta wrote in August. "Both rappers know how to lean into a pop culture call-out to grab headlines; see all off Kanye's 'Famous' Taylor Swift drama and Drake's extremely relatable 'Cheesecake Factory' line. West's unquenchable thirst for innovation, might also be exactly the thing Drake needs to stop him from rehashing the same navel-gazing stories album after album."
In the meantime, impatient fans can at least take solace in knowing that Drake and Kanye's team up album is more reality than fantasy.