iPhone 7 features: Here's your essential guide to Apple's latest release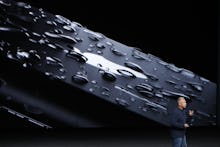 Tech giant Apple revealed a slate of new, highly anticipated products during its event on Wednesday — and one of hottest new items is the iPhone 7, which Apple CEO Tim Cook called "the best iPhone that we have ever created."
The newest iteration of the iPhone comes with a host of new features, including a pressure-sensitive home button, a new Retina HD display that will be better and brighter and two stereo speakers — one at the top and one at the bottom — that will be twice as loud as current iPhone speakers.
In a controversial move, the iPhone 7 and 7 Plus does away with the headphone jack, which means iPhone 7 users will either have to hook up headphones with an adaptor through the Lightning port, or use Apple AirPods: a new, wireless version of ear buds.
The iPhone 7 also features a redesign and comes in high-gloss black, gold, silver, rose gold and a matte finish black. The camera also got an upgrade; the new models will have a better, wider lens and a flash with four LEDs, which will allow for brighter, better photos.
For folks prone to spills, know the new iPhone 7 and 7 Plus is water-resistant — and dust-resistant, too.