Sia recreates her "The Greatest" video and performs "Chandelier" at the 2016 Apple Keynote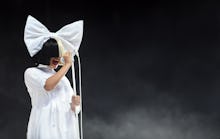 Apple's annual Keynote presentation never ends without some kind of breakout musical moment. This year, the star the tech giant chose to put in the spotlight was Sia. The wig-masked star recreated her video for her latest single "The Greatest," released Monday, live onstage at the event. 
She included all the video's subtle nods to the Orlando shooting, but pared the number of dancers down from 49 to five, with young dance prodigy Maddie Ziegler still right out in front.
Sia also ran through her 2014 breakout hit "Chandelier," which came with a video also starring Maddie Ziegler. The performance also featured a simultaneous broadcast of a filmed version Ziegler's dance shot from a series of dramatic angles.
Hilarious, perhaps tastelessly considering the nature of the tribute, a lot of Twitter decided to view the performance as an eulogy to the headphone jack, which, as Apple announced during the keynote, they have officially removed from their iPhone 7. 
Users had a ball pretending Maddie Ziegler's tears at the end of the "The Greatest" video were falling for the headphones that no longer have devices to plug in to.