Apple announced the iPhone 7 — here's what you should know about the screen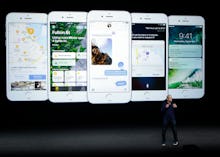 In a hotly anticipated announcement on Wednesday, Apple finally revealed the new iPhone 7 and 7 Plus, letting the world in on the changes in store for iPhone devotees. In addition to a host of other changes — goodbye headphone jack, hello water resistance! — the iPhone 7 screen should be a big step up from previous iterations of the device.
The iPhone 7 and 7 Plus will feature a new Retina HD display that will be 25% brighter than previous screens. The home button is no longer clickable — it's been replaced with a pressure-sensitive button.
And users no longer have to worry about getting dust on their screens — the new iPhone 7 and 7 Plus are both dust and water resistant.