Here are the latest storage specs for the iPhone 7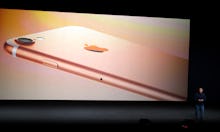 On Wednesday, in an event that streamed live from downtown San Francisco, Apple revealed a slate of much-anticipated new products, including the brand new iPhone 7 and 7 Plus. 
The new iPhones come with an assortment of new features and upgrades (and minus the much-debated headphone jack) — but the iPhone 7 and 7 Plus also feature a major storage boost.
The new models come with 32 GB, 128 GB or 256 GB of storage, scrapping the measly 16 GB once and for all. It's welcome news for iPhone users who constantly have to choose which of their apps to trash before they can snap their next selfie.
The new iPhone 7 starts at $649.