Hillary Clinton released an ad in Spanish starring Republican Carlos Gutierrez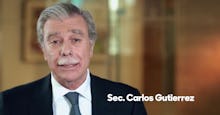 Democratic vice presidential candidate Tim Kaine isn't the only one of Hillary Clinton's supporters who can speak Spanish. 
In a new Spanish-language ad, Clinton enlists the aid of Carlos Gutierrez, George W. Bush's secretary of commerce for four years and a Cuba native. The ad will air in Nevada and Florida, according to the Washington Post. 
In the video, the title of which translates to "Country First," Gutierrez warns Americans not to vote for Republican nominee Donald Trump, whom he says is "dangerous." 
"Donald Trump doesn't have the qualities necessary to be president," Gutierrez says. "I know because I served in the cabinet of George W. Bush for four years. I was born in Cuba, but this country gave me my success. I've been a Republican my entire life, but first I'm an American. Vote for Trump? I can't. It's dangerous and we don't want to go back. Hillary Clinton has the experience and I trust her. For me, country first, and then [political] party."
The Clinton campaign also enlisted the Democratic vice presidential pick to help make inroads with Latino voters, even though most Latino voters are millennials who don't really care about Spanish-speaking candidates. Clinton is currently polling ahead of Trump with U.S. Latinos.  
Trump and his campaign have not exactly worked to make amends with the Latino community. One day after his photo-op-ready trip to Mexico, he delivered his most vitriolic, anti-immigrant speech. Shortly after, Trump supporter Marco Gutierrez warned that a Trump loss would mean taco trucks on every corner.  
Clinton's ad is one of two Spanish-language ads her campaign has released. The other "Verdadera Fuerza," or "Real Strength," attacks Trump's repeated insults of Mexican-Americans. See it in full below.