Will Donald Trump address the $1 trillion gorilla in the room in his big education speech?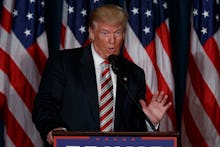 Donald Trump will deliver a speech on education policy Thursday afternoon in Ohio — his first speech focused exclusively on the subject.
To date, Trump's plan to tackle both the rising cost of college tuition, as well as the $1.2 trillion in student debt plaguing millennials, has been vague, at best.
But if Trump wants to have any hope at winning over millennial voters — who polling shows are likely reject his candidacy by a massive margin this fall — he'll need to lay out a comprehensive and attractive plan to alleviate the debt burden that's become a touchstone for millennial support in the 2016 campaign.
Sen. Bernie Sanders' promise of free tuition at public colleges and universities helped him win over historic numbers of millennial voters in the Democratic presidential primaries.
In her primary bid, Hillary Clinton had proposed debt-free college tuition before later going on to adopt a modified version of Sanders' free tuition plan amid negotiations for his endorsement after the primary wrapped.
Trump, for his part, has made attempts at wooing disaffected Sanders supporters by touting his opposition to trade deals such as NAFTA and the Trans-Pacific Partnership.
But what little Trump has said about his higher education plans is likely a repellant for millennial Sanders backers.
"There's no such thing as free education, because you know that ultimately someone else is going to be paying for that education, the taxpayer," Trump said of Sanders' plan for free tuition at public colleges and universities during a Fox News town hall in April.
That rejection was seconded by one of Trump's national policy directors in an interview with the education trade publication Inside Higher Ed in May.
"How do you pay for that? It's absurd on its surface," Sam Clovis, Trump's national co-chair and policy director, told Inside Higher Ed of free college tuition, adding that Trump would "fight" both Sanders' plan for free public tuition and Clinton's plan for debt-free public tuition.
Trump has also offered little detail into how he would make college more affordable and alleviate the debt students and college graduates already face.
"Student debt is a tremendous problem in the United States, We're going to restructure it, we're going to make it possible for people to borrow money, go through college, get through it, we're going to make it so that it's very affordable," Trump said in a Twitter Q&A last September, offering no specifics as to how he would achieve that goal.
He's suggested that he will help solve the college debt crisis by creating jobs for college graduates — again with little substance on how he would fulfill that promise.
"I'm going to create jobs, the biggest problem is you have student debt and you're a good student, you went to a wonderful college and then you look for a job and you cant get a job," Trump said in the Fox News town hall in April.
And in yet another Fox News town hall in April with host Sean Hannity that he would eliminate the Department of Education.
"The Department of Education is massive and it can be largely eliminated," Trump said. "Now you maybe want to have a little bit of, you know, tentacles out there, make sure everything — but largely we can eliminate the Department of Education."
The Department of Education currently oversees aid such as Pell Grants for the poorest students, as well as lower interest rate federal student loans and subsidized work-study programs. It's unclear whether Trump would keep those programs if he sought to eliminate the federal agency.
It also remains uncertain if Trump will address or elaborate on any of these positions in his speech, which is scheduled for 2 p.m. Thursday in Cleveland, Ohio.
But either way, how he chooses to address the college debt problem could offer further clues as to how he'll fare among millennials this fall.