While Apple celebrated the iPhone 7, Amnesty reminded us of the true cost of our gadgets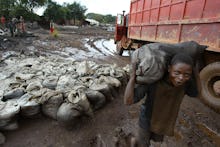 While all eyes were on Apple Wednesday as CEO Tim Cook unveiled the company's new iPhone 7 and iPhone 7 Plus, human rights group Amnesty International saw an opportunity to enter the trending conversation in a meaningful way.
"Congrats on the new #iPhone7 @tim_cook — but does it contain cobalt mined by children in #DRC?" the group tweeted mid-event.
The blunt message is a callback to a report that the group published this past January titled "This Is What We Die For" on the role of child labor in mining for cobalt — one of the primary materials used to create the lithium-ion batteries used in Apple products.
And Apple isn't the only company that's been taken to task for the link. Samsung and Tesla are also among the tech giants that Amnesty singles out as supporters the sketchy artisanal trade. In its 92-page report, the group claims that children as young as 7 work with mineral ores for sometimes as long as 24 hours straight, according to CNN Money.
"We found that traders are buying cobalt without asking questions about how and where it was mined," Emmanuel Umpula, the executive director of African Resources Watch, told CNN Money.
According to the report, the children subjected to the brutal work receive as little as $1 to $2 for their efforts, money that often goes to necessities like food and schooling.
"It is a major paradox of the digital era that some of the world's richest, most innovative companies are able to market incredibly sophisticated devices without being required to show where they source raw materials for their components," Umpula said in an Amnesty International statement in January 2016.
Watch Amnesty's short video on the dangerous practice below: