AirPods are the most talked about feature of the iPhone 7 — and the memes are hilarious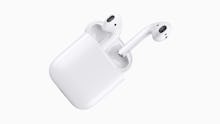 Let's talk about Apple's new AirPods. 
Wednesday's highly anticipated Apple event came and went, unveiling a slew of new products including the iPhone 7 and iPhone 7 Plus, Apple Watch Series 2 and iOS 10. But perhaps the biggest talking point of the afternoon was the introduction of Apple's Lightning AirPods — wireless earbuds that could, in theory, pave the way toward a cordless, analog-free future.
Alas, the internet was not impressed. 
Scores of Twitter uses took to the social media platform to creatively express their issues with the AirPods, which cost $159 per pair, have a battery life of just five hours and, frankly, are just begging to be misplaced. 
Here are some of the best reactions to the Apple AirPods: