Green Party candidate Jill Stein charged with vandalizing pipeline equipment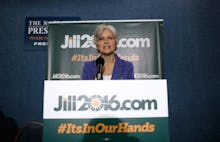 Green Party candidate Jill Stein, who was recently videotaped spray-painting construction equipment at a protest against the $3.8 billion Dakota Access Pipeline in North Dakota, has found herself on the wrong arm of the law for doing just that.
According to the Bismarck Tribune, Morton County Sheriff Kyle Kirchmeier announced his intention to work with the state attorney's office to bring charges against the candidate as well as her running mate Ajamu Baraka for her role in Saturday protest on Tuesday. On Wednesday, said charges were filed, accusing the two of a criminal trespass and criminal mischief, Class B misdemeanors punishable by up to 30 days' jail time and a $1,000 fine.
"The incident is actually still ongoing as we speak," Kirchmeier told a press conference on Tuesday. "Since we did not respond immediately to that location because of the situation ... we have information that they can just release themselves and it's no big deal."
The protest broke out in part due to objections from the Standing Rock Sioux tribe, which says work on the project is endangering local cultural heritage sites, reported KDLT.
The Saturday a confrontation between hundreds of protesters and private security forces resulted in three reported injuries among guards, though protesters claimed security also formed a barricade with dogs that attacked them. A federal judge subsequently temporarily delayed construction on portions of the pipeline on Tuesday.
Stein shot back against rumors of her upcoming arrest on Monday, asking if the state of North Dakota would also "charge the oil company that razed sacred burial grounds?"
On Tuesday, Stein doubled down, posting a photo of her spray-painting the equipment with a caption calling the DAPL "vandalism on steroids."
Stein has approximately 3.3% support in the general election, according to an average of polls kept by Real Clear Politics, trailing Democrat Hillary Clinton, Republican Donald Trump and Libertarian Gary Johnson by wide margins. But it's not the first time her campaign has drawn scrutiny this year: Earlier this summer, Stein came under widespread criticism for flirting with the notion wireless signals can affect the development of children's brains.