Matt Lauer is being slammed for not calling Donald Trump out on his lies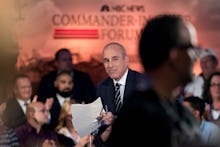 During NBC's "Commander in Chief Forum" Wednesday night, Republican presidential nominee Donald Trump continued to tout how he was always against the Iraq War — a claim that has been proven to be a lie. But, despite the ample proof contrary to Trump's claims, moderator Matt Lauer failed to call him out for it, and many took notice.
"I heard Hillary Clinton say I was not against the war in Iraq," Trump said. "I was totally against the war in Iraq. You can look at Esquire magazine from 2004. You can look at before that."
While Twitter was quick to pick up on Trump's inaccurate interpretation of history, Lauer let the lie go uncontested.
Lauer also failed to call Trump out on his assertion that he wasn't for the U.S. intervention in Libya, according to the Huffington Post. The Today host also faced criticism for asking Democratic presidential candidate Hillary Clinton to be "brief" when discussing her plan to combat ISIS.
Trump and Clinton will face off in their first debate, moderated by NBC anchor Lester Holt, on Sept. 26.