What you need to know about Nevada's marijuana legalization initiative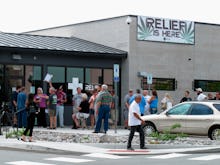 Nevada is one of five states that may legalize recreational marijuana use in November. If voters pass ballot Question 2, Nevadans could possess up to 1 ounce of marijuana, grow the plant and sell it at licensed dispensaries. Medical marijuana is already legal in the state that allows gambling and prostitution. Now, the Silver State hopes to join the ranks of states with legal weed.
As in Arizona and other states, the "yes" supporters in Nevada say marijuana should be regulated like alcohol. They estimate the 15% tax on marijuana sales would generate $393 million in 2018. Nearly 20,000 people use medical marijuana in Nevada and the state has already decriminalized marijuana possession to a low-level misdemeanor. 
Unlike in other states, anti-marijuana activists have been nearly nonexistent in Nevada. The Las Vegas Review-Journal reported no television ads have been bought in opposition to Question 2, while marijuana supporters have reserved more than $800,000 in ads across the state. And a group formed to oppose the ballot measure has reported no contributions.
"Marijuana prohibition has been a failure and people see that there is a better way to go about this," Joe Brezny, a spokesman for the Coalition to Regulate Marijuana Like Alcohol, told the Review-Journal. Ending prohibition is also an opportunity to make money. 
Green Chip Stocks, a website that encourages people to invest in cannabis, dismissed opposition to Question 2 from Nevada Attorney General Adam Paul Laxalt, who said voters should not support legalization because it is in the best interest of marijuana companies. 
"Dude, you live in Nevada! The gambling mecca of North America," Jeff Seigel wrote. "Your entire state lives and dies by the revenue generated in Sin City, where the biggest concern is making money!"
And money will flow aplenty if voters approve Question 2. A recent economic analysis said marijuana legalization will generate more than $1.1 billion in economic impact by 2024 — with more than 50% of marijuana sales to tourists.
Alaska, Colorado, Oregon and Washington allow possession and sale of recreational marijuana. The District of Columbia allows personal use and growth of weed. But voters in Arizona, California, Maine and Massachusetts may join Nevada in more than doubling the number of states that allow recreational use and sale of marijuana. The shift has happened quickly — four years ago, no state had legalized recreational marijuana.