Childish Gambino 'Pharos' 2016: What we know about Donald Glover's mysterious album, event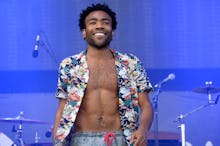 Over Labor Day weekend, Childish Gambino the rap alias of actor and comedian Donald Glover kicked off his mysterious Pharos music festival in Joshua Tree national park. He welcomed fans to camp and watch him perform music from his forthcoming, reportedly transformative 12-track album, seemingly also titled Pharos, under the roof of a 150-foot wide white mega dome. He also played new episodes of his TV show Atlanta and allowed fans to wander through a illuminated forest constructed out of bio-luminescent materials.
Yet, you'd have almost no idea of any of this checking social media.
That's apparently how the artist wanted it. Audiences had to lock their phones in bags before entering the dome, creating a truly unplugged, immersive experience. Scant information about the festival's unique sights and album's sound are available. But in talking to some of the creatives behind the festival and reading reports of the music, the experience is unlike any Childish Gambino — or perhaps any artist — has ever attempted to create. 
The festival featured a "triggering, real-time 3-D system."
Glover teamed with Microsoft and a squad of visual artists to create a look and feel for Pharos that was not only innovative, but entirely unprecedented. "I've tried to do some digging to see if anything like this had been done before, but I don't think anyone has seen anything quite like this," Alejandro Miguel Justino Crawford, the show's designer who previously designed a tour set for Childish Gambino, said in an interview. "The vision came directly from Donald."
Crawford worked alongside technical director and technical art lead Brian Chasalow and Chelsea Hash, who created dancing alien and ghost-like creatures that swayed with the music and interacted with the sounds in their environment. Chasalow described their ability to move about the space as somewhat of a "simple A.I. [artificial intelligence]," in that they were able to choose where they would move but were controlled by operator Austion Woolfolk.
"Skeletons and alien creatures danced individually in a world that stylistically wouldn't feel too out-of-place in No Man's Sky during one point," HipHopDX's Ural Garrett wrote. 
Pharos, the album, sounds as awe-inspiring as the festival where it was introduced.
By many accounts, Pharos sounds entirely different than Childish Gambino's second full-length album Because the Internet, with an entirely new message behind the music. Audiences noted Glover employed his sung vocals more so throughout the 70-minute album than in any other project he's previously released. 
Snippets of his live performance of the hotly anticipated album still somehow found their way online, despite the festival's rigid policies.
"It was this embrace of the unfamiliar that made the performance so unique," wrote The Fader's Tyler Mitchell. "If Because the Internet represented a vape-smoking, phone-obsessed, introspective, existentialist part of Gambino, Pharos opens a window to another side of him: one that is earthier and more ritualistic."
"Pharos cleverly fuses elements of funk, jazz, soul, blues, hip-hop and pop in ways not heard since The Love Below," Garrett wrote. "Gambino lets loose his inner George Clinton, James Brown and André 3000 fearlessly."
Rumors regarding Childish Gambino's new Pharos sound started swirling long before the festival.
Sonically, the snippets of leaked moments from the hip-hop artist's elusive performance sound uncannily similar to an unreleased track he premiered during his Bonnaroo set in 2015.
As Mic previously reported, vocal artist Aaron Michael Gutierrez raved about his experience laying down "very intricate, very rich harmonies" for five tracks Glover was planning on using at some point in now-deleted tweets. 
Symbolically, Pharos could represent the next stage in Glover's artistic awakening. The term comes from ancient Greece, and describes the Croatian island which once housed one of the seven wonders of the ancient world, the Lighthouse of Alexandria. It's a narrative that may build off Kauai's island theme. 
Whether Pharos will follow suit to his commercially successful Kauai, or take on an entirely new life of its own, we'll have to wait and see. There's currently no release date for the new album. Taking into account Pharos' unprecedented eccentricity, fans should be prepared for anything.