Tomi Lahren pits gays against Muslims again in anti-Megan Rapinoe rant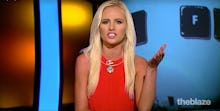 Right-wing provocateur Tomi Lahren released a video Tuesday attacking lesbian Seattle Reign star Megan Rapinoe for kneeling during "The Star-Spangled Banner" before a September 4 soccer game. Rapinoe kneeled to show solidarity with San Francisco 49ers quarterback Colin Kaepernick, who is refusing to stand for the national anthem to protest racism and police brutality. 
Without interviewing Rapinoe, Lahren puts words in her mouth and belittles her act of solidarity with Kaepernick, who Lahren calls a "crybaby" and insults throughout the rant. 
Lahren also dismisses Rapinoe's actions as selfish and motivated by her sexuality, though Rapinoe never mentioned either herself or being a lesbian as reasons for her protest.
"Rapinoe is gay, so she knows what it's like to be disrespected by our nation, so she's going to kneel for the anthem from now on in hopes to really get this conversation going," Lahren says in a sarcastic tone. 
"You look at that flag and hear our anthem, and it disgusts you, huh? Because the United States of America doesn't respect your liberties as a gay person?" Lahren asks. 
"Hey Megan," she adds, "do you know what they do to women and gay people in many countries around the world? They stone them and throw them off buildings!"
Lahren goes on to commend U.S. military members fighting overseas "against enemies who would kill people like [Rapinoe]," asking Rapinoe to "remember that while you take a knee." 
When Lahren talks about throwing gay people off buildings, she appears to be referring to the Islamic State group, or ISIS, which has made headlines for its violent treatment of LGBTQ people. But her use of the word "countries" — and refusal to be more specific — conflates ISIS' brutal actions with those of governments of majority-Muslim countries in general. Doing so articulates a not-so-subtly Islamophobic agenda, and fails to account for the Muslim countries where being gay is not criminalized, let alone routinely met with stoning or people being thrown off roofs.
What's more, Lahren perpetuates the same false narrative about Islam that Donald Trump pushed after the shooting at the Pulse nightclub in Orlando on June 12. After the massacre, which claimed the lives of 49 victims, Trump attempted an appeal to LGBTQ voters by claiming he would protect them from the alleged threat posed by Muslims and immigrants (the shooter, Omar Mateen, was the American Muslim son of immigrants from Afghanistan).
"Radical Islam advocates hate for women, gays, Jews, Christians and all Americans," Trump said in a statement. "I am going to be a president for all Americans, and I am going to protect and defend all Americans."
Trump doubled down on his xenophobic rhetoric the following month at the Republican National Convention.
"I will do everything in my power to protect our LGBTQ citizens from the violence and oppression of a hateful foreign ideology," he told the crowd gathered in Cleveland.
Both Lahren and Trump have embraced "divide and conquer" tactics to make their point, with LGBTQ people on one side and Islam on the other. In doing so, they've not only evaded any hint of nuance, but declined to account for the intersectional existence of queer Muslims in the U.S. and abroad, and failed to mention that, far and away, Muslims have consistently disavowed ISIS.
But despite criticism from people like Lahren and others, Kaepernick has vowed to continue his protest until "significant change" is made. Rapinoe also expects to continue her show of solidarity, though it hasn't been without resistance: The owner of the Washington D.C. Spirit, Bill Lynch, tried to silence her before Wednesday night's game by playing the national anthem while players were still in the locker room.