Rage Against the Machine's Zack de la Rocha drops long-awaited debut "Digging for Windows"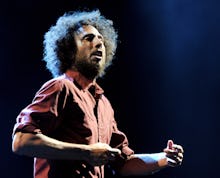 Forget Prophets of Rage. The real ringleader of political music has returned.
After eight years of relative silence, Zack de la Rocha, the sorely missed frontman of Rage Against the Machine, has returned with new single "Digging for Windows." The grimy electronic beat features production from El-P of Run the Jewels, a band that has followed directly in Rage Against the Machine's polemical footsteps and one that gave de la Rocha a key feature on their latest effort, Run the Jewels 2. 
The single provides a perfect snapshot of the aggressive political poetry for which de la Rocha has been celebrated for years. Fans can listen below or download via a BitTorrent bundle.
De la Rocha aims his crosshairs at the upper echelon and every apparatus that intentionally or unintentionally stratifies power: "Now they ride their portfolios/ Like rodeos," the lyrics read. "Rise every time my cherry glows/ On the end of my cig as/ The smoke blows through the bars/ And the CO's laugh fades."
It's already got fans paying homage in droves.
The single, and the upcoming album it will likely herald, have been rumored to be in the works for nearly 20 years. Artists from Questlove, Nine Inch Nails' Trent Reznor, DJ Premiere and DJ Shadow have all spoken about the project's mythical sessions. In 2001, Questlove described the music as "dangerous" and "scary." 
"Crazy-fast beats per minute," he detailed for MTV News, "a theremin, crazy synthesizer energy, Moogs, a lot of drum 'n' bass shit."
But that project never surfaced. "I felt that I was going through the motions," de la Rocha himself explained in a 2008 interview with the Los Angeles Times. "Not that what was produced wasn't great, but I feel now that I've maybe reinvented the base sounds that emanate from the songs."
DJ Shadow, for one, said working together was "soul-crushing," according to FasterLouder. 
"It was like the biggest disappointment in my career to that point," he said about the fact the album had yet to surface. He hinted that one of the songs they worked on, "Artifact," is still floating around on the net somewhere if you look hard enough.
It seems like fans won't have to wait much longer for de la Rocha's full vision to come to fruition. It could hardly come at a better time: Prophets of Rage, a Rage Against the Machine (sans de la Rocha) reunion group featuring Public Enemy's Chuck D and Cypress Hill's B-Real on vocals, has been trying and largely failing to "make America rage again." Their debut EP scored a whopping 2 out of 10 on Pitchfork. 
But de la Rocha's single has all the urgency the Prophets' rehashed tributes seem to have been lacking. Rock gods willing, there's more on the way.
Mic has reached out to El-P's team for more information about the single and possible upcoming album, and will update as the story develops.
Correction: Sept. 8, 2016