Seth Meyers explains why we should be more skeptical of Trump's scandals than Clinton's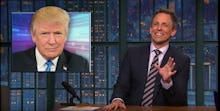 Some of the biggest obstacles facing Hillary Clinton and Donald Trump ahead of November's election are the candidates' so-called "scandals." However, as Seth Meyers noted on Wednesday's episode of Late Night With Seth Meyers, these "scandals" are quite different.
First, there's Clinton and the ongoing saga of her emails. The former secretary of state was accused of a conflict of interest with the State Department after the FBI released notes from its interview with her. But as Meyers notes, there's no definitive evidence that the State Department did any favors for Clinton — just suspicions. 
"Compare that to another foundation you may have heard a lot less about, the [Donald J.] Trump Foundation," Meyers explains. "One reason you probably heard less about it is because it's not exactly clear what the Trump Foundation does. The Clinton Foundation provides life-saving care to AIDS patients, while the Trump Foundation once gave $250 to the Special Olympics, and $100 to the March of Dimes." 
Moreover, the Trump Foundation made a charitable donation to Florida Attorney General Pam Bondi's campaign, which many critics posit was Trump's attempt to get Bondi to look the other way with the Trump University scandal (she decided not to pursue, conveniently). Meyers adds that Trump and his daughter, Ivanka, both donated $500 to Bondi as well. 
"Because everyone knows there's three things Ivanka Trump cares about: the real estate business, high-end fashion, and down-ballot Florida politics," he said. 
Throughout his campaign, Trump has incessantly bragged about how he can get whatever he wants from politicians with monetary incentive. Per Trump, this would include Clinton — who attended his wedding with his current wife, Melania Trump. 
"Think about how sad that is," Meyers says. "He is bragging that he had to pay people to come to his wedding. And I'm pretty sure Hillary wasn't the only one who was there for the money." 
Watch Meyers' full segment on the Trump and Clinton scandals below.