World-class athletes take part in epic opening ceremony for Paralympic Games in Rio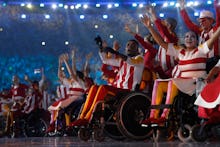 A moving opening ceremony marked the start of the Paralympic Games in Rio de Janeiro Wednesday night. 
The ceremony, which took place in Rio's Maracanã Stadium, celebrated the thousands of world-class athletes competing in the 2016 Paralympic Games. Despite various road bumps leading up to the competition, it was an impressive spectacle to behold.
Every country's delegation marched through Maracanã Stadium carrying a jigsaw piece: one side bearing the nation's name; the other featuring the competitors' faces. In succession, the delegations laid them down face side up, culminating in a heart that pulsated to the beat of the music. 
The ceremony was peppered with other feats and performances. Carlos Martin played the Brazilian anthem on the piano with one hand.
Ceremony organizers used literally blinding lights at one point to temporarily strip onlookers of their sight, thereby replicating the experience of some of the blind athletes. 
Brazilian Paralympic swimmer Clodoaldo Silva, hailed as one of the greatest Paralympians in hisotry, lit the cauldron. The Michael Phelps of Paralympic swimming, Silva has won 13 medals — six of which are gold. 
American double-amputee and Paralympic snowboarder Amy Purdy did a five-minute Samba dance solo — with the help of a robot. No doubt her second-place win on Dancing with the Stars' 18th season helped.
The snowboarder-turned-Samba dancer used a novel set of prosthetic legs, a technology and design she was previously unfamiliar with. She spent a month rehearsing with them. 
"They're made to propel you forward, but you can't really stop that whole time, 'cause they store energy," Purdy told the Washington Post. "But once I mastered it, I found myself with more movement in my blades."
Sitting volleyball player Eshrat Kordestani bore the Iranian flag at the front of her delegation. 
"Mrs. Kordestani is ... war wounded and has lost her right foot in Shalamcheh in 2002 when she was 19 year[s] old. She has been Iran's captain as well," said Iran's National Paralympic Committee president Mahmoud Khosravivafa, according to Tasnim News Agency.
She is one of an increasing number of hijab-clad athletes participating in global competitions. Kimia Alizadeh became the first Iranian woman to win an Olympic medal last month after receiving the bronze for taekwondo. 
Aaron 'Wheelz' Fotheringham, an extreme wheelchair athlete, wowed the crowd after propelling himself off a ramp and flying through a giant zero, shooting fireworks.
Tennis player Yui Kamiji, who uses a wheelchair, represented her home country of Japan, leading the delegation and bearing the Japanese flag. The 24-year-old national hero has won gold medals at Wimbledon and the U.S. and Australian Opens, among a number of other triumphs.