The Obamas' 'Essence' photoshoot reminded everyone that they are #RelationshipGoals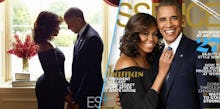 First couple Michelle and Barack Obama will appear on the cover of Essence magazine for a special collector's edition that hits stands on Friday — and their photoshoot for the magazine is, well, pretty much perfect.
According to photos of the magazine's cover, the issue will feature a "12-page salute to the first couple's finest moments" and an interview with the Obamas about their time in the White House. Before readers have even had the chance to see the full piece, the sneak previews circulating on social media are already causing people to swoon over the Obamas.
Barack and Michelle have defined #RelationshipGoals throughout the eight years they've been in the White House. Even since the '90s, they've proven again and again why their relationship is so aww-worthy.
In an interview the two did with photographer Mariana Cook back in 1996 — before they were one of the most famous pairs on the planet — Barack spoke eloquently about what keeps his love for Michelle going:
What sustains our relationship is I'm extremely happy with her, and part of it has to do with the fact that she is at once completely familiar to me, so that I can be myself and she knows me very well and I trust her completely, but at the same time she is also a complete mystery to me in some ways. And there are times when we are lying in bed and I look over and sort of have a start. Because I realize here is this other person who is separate and different and has different memories and backgrounds and thoughts and feelings. It's that tension between familiarity and mystery that makes for something strong, because, even as you build a life of trust and comfort and mutual support, you retain some sense of surprise or wonder about the other person. 
Barack's passion doesn't seem to have faltered; it sometimes seems he talks about his love for Michelle every chance he gets. During a campaign stop in 2011, Barack advised the single dudes in the audience to "marry up" — and said "we're lucky to have" Michelle as first lady.
In 2014, during a Google hangout, Barack said the "main reason" he was "pretty happy" was that "I've got this amazing wife and two unbelievably terrific daughters."
Like any supportive partner, Barack also tweets about his love for Michelle. This one from after Michelle's address at the 2016 Democratic National Convention was especially #RelationshipGoals-ish.
Michelle, for her part, says some very nice things about her husband. In a 2009 interview with Oprah for O Magazine, Michelle described how she sees Barack: "In terms of his core values, he has never disappointed me," she said. "He is a very consistent person — which is why I knew unequivocally that he would be a phenomenal president. He is steady. Has he made me mad? Yes. Does he sometimes do things that I don't like? Absolutely." 
But, she said, "I don't lose sight of the fact that he's the president, but first and foremost he's my husband, my friend and the father of my children." 
Oh, and let's not forget there's an entire movie about their first date. 
The special issue of Essence comes out on Friday, but until then, if you still need your Barack and Michelle fix, watch this video on repeat.