Rents in America's most expensive market are actually falling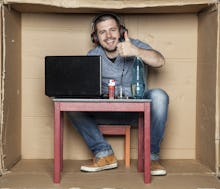 Time to consider renegotiating that lease.
Rents in the United States' most expensive housing market — Manhattan, where two-bedrooms go for a median $5,200 a month —  may have finally peaked. 
Renting activity typically peaks over the summer, as recent graduates flock to coastal cities and drive up demand. But that didn't happen this summer, according to a new analysis from Miller Samuel Inc. and Douglas Elliman Real Estate and reported by Bloomberg.
Instead, rents were basically flat, about a dollar less than they were at the same time last year. With the busy season behind them, landlords will have a tougher time jacking up rent in the coming months.
The favorable conditions are probably due to excess supply: This August was the second highest volume month for rentals since April, 2009. 
"It's going to be a cat-and-mouse game with owners and tenants: Who's going to blink first?" Gary Malin, president of the real estate broker Citi Habitats told Bloomberg. 
Manhattanites aren't the only ones who might able to wrangle some concessions from their landlord. 
According to ApartmentList's latest rental report, rents in Washington D.C, the fifth-most expensive market, fell a bit less than half a percent. And rents in San Francisco may have been dipping even more, depending on which data you use. 
In Manhattan at least, landlord concessions were far more frequent, with an average of 1.2 months free-rent.