The iPhone 7 is water-resistant, not waterproof — here's what that means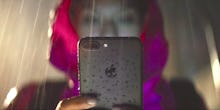 Apple made an exciting announcement at its keynote event yesterday: The new iPhone 7 and iPhone 7 Plus are water-resistant. But before you hop in the ocean and take some underwater photos on the iPhone 7 Plus' new dual-lens camera, you should know there's a key difference between water-resistant and waterproof.
The iPhone 7 and iPhone 7 Plus have an IP67 water resistance rating, which means they can technically withstand immersion up to one meter (about 3.3 feet) for up to 30 minutes. That might sound enticing for a few Instagram shots in the shallow end of the pool, but it's not recommended either.
Rather, the iPhone 7's water resistance will best come in handy during rain and splashes. Get caught in a sudden downpour? No worries. Accidentally drop your phone in the toilet? All good. Want to change the song you're listening to in the shower? No problem.
That being said, Apple still won't cover liquid damage under warranty, so it's best if you limit the device's encounters with water and use caution when applicable.
Accidents happen, and Apple seems to have finally recognized that. But don't test your luck. Until the iPhone becomes fully waterproof like the new Apple Watch Series 2, underwater photography is best suited for specialized cameras.