Is the iPhone 7 disappointing? Here's why you should hold out for the iPhone 8.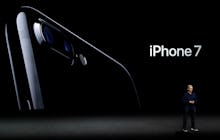 Apple unveiled the iPhone 7 and iPhone 7 Plus on Wednesday to much fanfare — Jony Ive somehow made "aluminum" sound sexy as he narrated a video of dewy phones emerging from puddles in slow-motion like the pool scene from Wild Things. 
But no matter what way you spin it (and boy did Apple slowly, seductively spin those iPhones on the big screen), the iPhone 7 and iPhone 7 Plus aren't exceptionally different from their predecessors. In terms of hardware design — aside from new color options (that black is sleek, just don't scratch it!), the disappearance of the antenna bands across the back of the device and the removal of the headphone jack, the iPhone 7 and iPhone 6 look nearly identical. 
During the keynote, Tim Cook said that the iPhone 7 is "the best iPhone that we have ever created." Chances are, he's going to say the same thing about the iPhone 8 in a year's time. So if you're underwhelmed by the iPhone 7 and your current model is operating just fine, say "fuck you" to planned obsolescence and hold out for the iPhone 8 — it will be Apple's 10-year anniversary phone, and it may make both a literal and figurative splash. Here are some things we can anticipate for the iPhone 8. 
New body 
Rumors that the iPhone 7 would undergo a "modest upgrade" were correct — and that's probably because Apple is saving up their major redesign for the iPhone 8. There are rumors swirling around that the anniversary iPhone will be all-glass with a curved, "edgeless display." Bevels, be gone. The probability of a noteworthy revamp is high. As for an all-glass body? It seems a bit outrageous. But as Apple pointed out during Wednesday's keynote, the company's not afraid to be brave. 
Drool-worthy screen
Apple is rumored to finally equip its iPhone 8 phone with an OLED display, an impressive contrast to the current LED screens. However, one research analyst doesn't think OLED displays will come to all iPhone 8 models, but rather just a "specialized edition." 
RIP home button
Apple is slowly moving further from a physical, clickable home button — the iPhone 7 home button is pressure-sensitive, and the iPhone 8 is rumored to get rid of the home button altogether. 
One step closer to Minority Report
Samsung Galaxy Note 7s may be bursting into flames, but they one-upped the iPhone in at least one futuristic feature — iris scanning. Apple may also introduce an iris scanner, an additional layer of security and identification, into the iPhone 8, which would be cool as hell and certainly a satisfying new feature for those disappointed in the iPhone 7 unveiling. 
Upgraded guts
As with each new iPhone cycle, the next-gen devices get an upgrade under the hood. Juicier battery, faster processor and a better camera are almost a sure bet for the iPhone 8.
New colors 
This year, with the iPhone 7 and 7 Plus, we got not one but two new colors. Or, rather, the absence of color: a glossy Jet Black and a matte black. It'd be smart of Apple to also release the iPhone 8 with some new color options. Deep blue, like Cook and Schiller's matching shirts at the keynote, maybe? That white ceramic option seen in the Apple Watch Series 2? 
Wireless charging (please) 
Apple, if you have any courage left after you so bravely announced the disappearance of a hole, can you please use it to add wireless charging capabilities to the iPhone 8? Now that there's only the Lightning port, we need it now more than ever.