Three women volleyball players at WVU Tech kneeled for the national anthem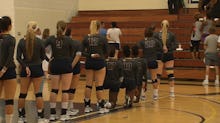 Three women volleyball players from West Virginia University Tech took a knee during "The Star-Spangled Banner" at their home game Wednesday night. The silent protest was in solidarity with San Francisco 49ers quarterback Colin Kaepernick, who similarly sat during the national anthem last month to protest racism in the United States.
"He's exercising his right to choose to sit or stand, so you have to recognize that he's got that right," player Keyonna Morrow, who is also the vice president of WVU Tech's Black Student Union, told WCHS.
Morrow added she hopes her team's demonstration drives home the message at the heart of Kaepernick's protest. 
"Everyone should be treated equally, no matter their color, age, sex, anything," Morrow explained to WCHS. "Everyone needs to be on one page, everyone needs to be treated the same way."
Kaepernick drew heaps of criticism following his decision, with many detractors calling him unpatriotic and "disrespectful." Fox News host Brian Kilmeade went so far as to say Kaepernick had no right to take such a bold stance on racism because his adoptive parents are white.
But Kaepernick has stayed resolute.
"I am not going to stand up to show pride in a flag for a country that oppresses black people and people of color," Kaepernick told NFL.com following his protest. "To me, this is bigger than football and it would be selfish on my part to look the other way. There are bodies in the street and people getting paid leave and getting away with murder."
Meanwhile, many supporters are applauding the quarterback for his political statement, with multiple athletes joining him in refusing to stand for the anthem. On Sunday, soccer star Megan Rapinoe, like the WVU Tech volleyball players, kneeled during the song before a game in Washington D.C. A number of players with Seattle Seahawks reportedly plan to sit during the anthem once the NFL regular season starts this weekend.