How do I know where I'm registered to vote? Here's what to know before voting day 2016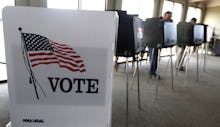 In every state, except North Dakota, citizens who want to vote must register to do so, and this is not done through the federal government. It is a process that varies state-to-state, with different deadlines and tools for registering. 
But before trying to mail in a form or register online, voters need to know where they should be registered to vote and there are tools to help citizens figure this out. 
The National Association of Secretaries of State offers information for every county or voting jurisdiction. Trying to reach officials at your local elections office? This is where you want to start.
To begin with, you are not registered to vote if you have not registered before. But if you have registered and moved — within the state or around the country — your registration needs to be updated. As a rule of thumb, you vote where you live, but states have different rules on this point. Some require voters live in their state for a certain period of time before they can vote there. Others will let new residents vote immediately. 
Some states offer online registration, while others require a form be filled out and mailed or handed-in to election officials. Check with your local election officials to find out how to register. 
The Association of Secretaries of State also runs CanIVote.org. The website tells voters how to find their polling place and how to register to vote. And to ensure voters don't miss a date, Mic has a comprehensive list of voter registration deadlines. 
Knowing this information is important. In some states, voters cannot alter their registration at the polling place — meaning, if you show up at the wrong place to vote or show up without updated voter registration, you may not be able to vote.  
The takeaway: Register to vote early and give yourself time to make mistakes. Some states have laws that limit the amount of time you have to register. And other states have restrictions that can make registering more difficult. This process can be confusing. But if you do your research and ask questions, the process can be quick and easy.