Need to register to vote in Colorado? Your guide to signing up in the Centennial State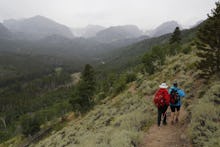 Colorado has multiple options to help residents register to vote in the November election. Colorado is one of 32 states that lets voters fill out their registration online. To vote online, Coloradans need to provide a form of state-recognized identification. If residents do not have an ID, they can complete a paper form and mail it to the state elections office. 
Colorado also offers voter registration in-person on Election Day. 
Hillary Clinton leads Donald Trump by more than 11 percentage points on average in Colorado polls. The state's nine electoral votes have swung in recently years. The state supported Barack Obama in 2008 and 2012 but only voted Democratic in one other presidential election between 1976 and 2008.