iPhone 7 in jet black is beautiful — but you shouldn't buy it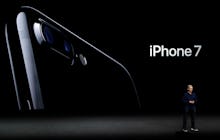 Apple unveiled two new colors at the iPhone 7 event Wednesday: glossy jet black and regular black in a matte finish, in addition to the standard gold, rose gold and silver. (Alas, the gunmetal-colored space gray is no more.)
Apple knows its jet black looks irresistible in photos. It's sleek, polished and looks like it emerged from a waterfall, tumbled into smooth perfection by ancient oceans (and it's water-resistant, too).
But here's the thing about that gorgeous finish: It. Does. Not. Age. Well. The jet black scratches like raw clay and retains smudgy fingerprints like a piece of glass. How do we know? Apple's iPhone 7 page issues a warning, in fine print, at the very bottom:
The high-gloss finish of the jet black iPhone 7 is achieved through a precision nine-step anodization and polishing process. Its surface is equally as hard as other anodized Apple products; however, its high shine may show fine micro-abrasions with use. If you are concerned about this, we suggest you use one of the many cases available to protect your iPhone.
"Fine micro-abrasions" doesn't sound that bad. But what do these scratches look like in person? The Verge's Ashley Carman spotted a demo phone at the Apple event and noticed immediate wear and tear. Even worse, the phone looks cheap in real life. Despite the "nine-step anodization and polishing process," it still has the look of shiny plastic, like the outer case of a television.
It's telling when Apple says straight-up that you should get a case for this phone. If you often drop your iPhone — and that's not your fault; carrying the naked iPhone 6 sometimes feels like holding onto a live trout — the jet black will be a disaster. 
"The jet black is a piano super-glossy finish that I don't think I can seriously recommend to anyone," says Marques Brownlee in his initial iPhone 7 video review. "It looks good while you keep it clean, but ... it's probably going to be the slipperiest iPhone of all time." 
The Verge, however, reports the jet black is "surprisingly grippy." That makes sense, considering the iPhone 4's equally glossy body actually turned your fingerprints and face grease into a friction-y patina.
After handling both, Brownlee recommends the iPhone 7 in the matte-black finish. "I'm gonna be grabbing that matte black," he says. "Something about the stealth look just speaks to me." The regular black apparently hides scratches a lot better, so if you care about keeping your device looking brand-spanking-new, there's only one choice.
Or, you know, just get the rose gold.