Airbnb is finally doing something about its major racism problem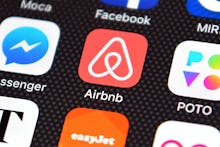 Airbnb is cracking down on biased renters who try to cherry pick the users who crash at their pads. In a 32-page report unveiled on Thursday, the short-term rental service addressed the longstanding concerns of would-be guests who feel that they have been unfairly discriminated against by renters, according to the New York Times.
Beginning on Nov. 1, the company will ask that all users adhere to strict anti-discriminatory laws, and will also implement a "community commitment" asking users to interact with one another, "regardless of race, religion, national origin, disability, sex, gender identity, sexual orientation or age."
Airbnb said that it will also attempt to minimize the role of user photos in the app's interface, which some have complained increase the opportunity for other users to unfairly discriminate. The new strategies are a response to claims of discrimination that threatened to derail the young company, according to the Times.  
Complaints of racism on Airbnb: In December, a working paper published by Harvard University researchers that examined the responses of hosts to users with black-sounding names found "widespread discrimination".
In their controlled study, renters with African-American-sounding names got a positive response about 42% of the time, as opposed to renters with white-sounding names, who got a positive response about 50% of the time.
The group queried the San Francisco-based startup directly, appealing to it to recognize their disturbing findings.
"We recognize that bias and discrimination are significant challenges, and we welcome the opportunity to work with anyone that can help us reduce potential discrimination in the Airbnb community," the group wrote.
Meanwhile, a Twitter campaign, #AirBnBWhileBlack, went viral in April after its creator, Quertina Crittenden, shared her story with NPR.
Crittenden, 23, claimed that despite being the poster child for Airbnb's ideal consumer in many ways — she's young, adventurous and successful — she was having issues securing a room through the app.
After changing her picture and shortening her name to "Tina" on the suspicion that her black skin might be the reason for her struggle, Crittenden told NPR her problems with formerly reluctant hosts vanished.
Others used the hashtag she created to share similar experiences, suggesting that racist encounters on Airbnb were widespread.
Laura Murphy, former director of the ACLU Legislative Office in D.C. who helped Airbnb conduct a 90-day study on the prevalence of discrimination throughout its platform, told Forbes that she thought the app's proposed policy changes were a strong start.
"We wanted to not focus on a single remedy, but to surround the issue with a variety of solutions so that nondiscrimination becomes self-reinforcing behavior," she said. 
"A set of policies and practices that reflect all the aspects of discrimination, to put a blanket over the fire so it doesn't have the oxygen to thrive."