Justin Bieber and Post Malone release "Deja Vu", a chill, end-of-summer anthem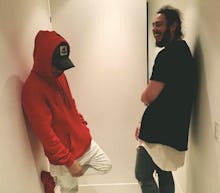 Post Malone has joined forces with pop star Justin Bieber for "Deja Vu," one of the first singles released off Malone's forthcoming debut album Stoney. The track surfaced online Thursday morning, and it boasts a "Hotline Bling"-esque, trap-lounge vibe with a breathy Bieber-sung chorus. Its lyrics offer a no-frills ode to late summer hook-ups, as both singers ask: "Tell me, is that deja vu? Because, baby, it ain't nothing new."
The two have been teasing this collaboration for some time now, pairing up at the CaliBash 2016 festival and dropping photos on Instagram with captions to the tune of "just wait on it." Stoney, which was supposed to drop in August, features Bieber, along with Jaden Smith, 2 Chainz, Jeremiah and Lil Yachty. 
Malone apologized to fans days after his projected release date came and went without an album, writing on Instagram, "I'm disappointed in myself and my whole team ... I couldn't deliver on my word. There is no excuse." The rising hip-hop artist's "Hollywood Dreams" tour is set to begin Sept. 14 in San Diego. 
It's remains unclear when the official album will drop and where it will stream. "Deja Vu" is currently only available on third-party streaming services, which were being shut down as of this writing. This post will be updated when an official link to the track drops. Until then: Happy hunting.
Sept. 9, 2016, 3:25 p.m.: The track is now on Spotify. Listen below.