Workaholic Americans are sucking billions out of the economy by not vacationing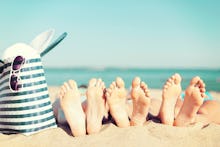 Almost half of Americans took fewer than three days vacation this summer, with more than 37% taking no vacation at all, according to a new survey from Skift, the travel website. 
Only a third of Americans managed to actually get away from the office for a week or more. 
It's no secret that the United States seriously lags behind its peers when it comes to paid time off. 
In Europe, for instance, the vast majority of workers are legally entitled to time off. The European Union sets a floor of at least four weeks paid vacation, with some countries like France offering even more. 
Even Japan, not exactly known as a bastion of work-life balance, mandates 10 days. 
What's more, Americans might be bringing this on themselves, and messing up the economy by doing so. 
That's because a lot of Americans actually do get time off, but don't use it: Roughly 658 million vacation days go unused each year, according to Project Time Off, an advocacy group. 
If all those people actually used all that vacation up, it would generate an extra $223 billion in business activity and create 1.6 million new jobs. 
There is a possibility those numbers are a bit inflated. Project Time Off is in part backed by players in the tourism industry, which means they have an incentive to encourage more people to hit the beach. 
With Labor Day behind us, it's officially too late to squeeze in a last-minute summer getaway, although there's always the fall. 
So get out of the office this October, America. Your country needs you. 
Sept. 8, 2016, 1:45 p.m. Eastern: This story has been updated to include the latest figures from Project Time Off.