Here's the exact time you need to preorder the iPhone 7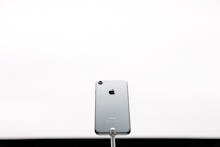 Apple finally revealed the iPhone 7 and iPhone 7 Plus at Wednesday's keynote event. Rejoice! It's almost time to get your hands on them. If you follow these instructions, you'll never have to wait in line.
The iPhone 7 and 7 Plus will be available for preorder on Apple.com on Friday, Sept. 9, at 12:01 a.m. Pacific. This means if you're on the east coast, you need to wake up before 3:01 a.m. to preorder. 
Let me repeat that: 3:01 a.m., and not a second later.
The new devices will be available in stores and online on Friday, Sept. 16. 
You can't add the iPhones to your shopping cart online yet, but you can mark them as favorites. To make the buying process faster and simpler, sign into your Apple account, add your wireless carrier information and save your iPhone of choice (we like the matte black) as a favorite. 
Then go to bed, set an alarm for a few minutes before it becomes available in your time zone, and quickly buy your iPhone the moment the clock strikes.
Or stay up late and make it into a little event for yourself. Eat some apple pie and watch old Apple keynotes to keep yourself busy. 
If you're itching for a change but aren't in the market for a totally new iPhone (or just don't want to drop the money on one), don't fret. Your current iPhone will be getting a software update on Sept. 13 when Apple's new operating system, iOS 10, is available for download. iOS 10 will bring your iPhone new messaging features, a new lock screen, Siri capabilities and more.