'Bon Appétit' video of white chef explaining how to eat pho is peak cuisine Columbusing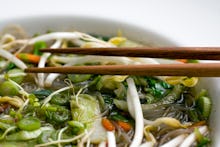 A video about Vietnamese noodle soup pho has Bon Appétit in some pretty hot water. 
On Wednesday afternoon, Bon Appétit posted a video featuring Tyler Akin, a chef at Philadelphia-based Vietnamese pho restaurant Stock. In the video — which Bon Appétit has since deleted because of the overwhelmingly negative reaction — Akin speaks about his philosophy on pho, which included telling those who eat pho how to eat it properly, which includes not adding Sriracha or hoisin sauce to the broth. 
Commenters inundated the video with a range of criticisms — some lighthearted, some more serious. 
While some commenters had problems with Bon Appétit's choice of expert (read: a white chef), many others pointed to specific problems, like his instructions on how to eat pho properly. Others took issue with Bon Appétit's framing of pho as "the new ramen," which marginalized one Asian ethnicity to make room for another. 
"I saw it and I was flinching and I thought to myself, 'So, in the Western world, to the white world, can there only be one Asian noodle soup?" Andrea Nguyen, Vietnamese chef and author of the upcoming The Pho Cookbook, said in a phone interview. "Do they say that about spaghetti?" 
As for telling people how to eat their pho, Nguyen says that's not in the spirit of the dish. 
"It is, at its core, this 'have it your way' soup," Nguyen said. "I'll tell you how I eat it and why, and I want you to be informed so you can make your own decision. I'm not going to tell you how to properly do something, because I don't want to be my mother." 
Others took issue with the idea that Asian food needs to be "elevated." 
"I feel like white chefs tend to take these traditional Asian dishes that are known to be very much popular among working-class Asian Americans as cheap street food and they change one thing, put in a piece of cilantro and a peanut, and now it's $12," Ranier Maningding, the writer behind popular Facebook page The Love Life of an Asian Guy, said in a phone interview. 
"It's not the soul of what that food is. For Bon Appétit to contact this guy, out of everybody, to do a feature on how to eat pho was irritating." 
Bon Appétit has since removed the video and issued an apology on their Facebook page. 
"We believe in celebrating food from all cultures — we just want to eat and talk about food, all the time. Moreover, we care deeply about supporting local and international food communities," the apology reads. "At the same time, we never want to be a space that allows for harassing comments and threats toward chefs and restaurant owners. Ever. That's not what we're about. Which is why we have taken down this video."
Maningding called the apology "fake" and "forced." He said that the apology actually ended up blaming those in the comments and never took ownership that they put out a bad product. 
"Never did they say, 'Sorry, we fucked up, because we positioned this chef as a go-to source for this cuisine that he's not an authority of," Maningding said. "Instead, they put it on the Asian community, saying our backlash caused the problem." 
After Bon Appétit removed the video, those looking to express their views on the matter turned to the restaurant's own Yelp site, which became a battleground between those who disliked the video and those defending Akin. The most recent reviews are littered with 1- and 5-star screeds about Akin or "identity politics." 
However, the controversy goes beyond identity politics, Nguyen says. 
"Bon Appétit was trying to go post-racial, and they didn't quite do it with enough sensitivity, and I think that's the problem," she said. 
As a Vietnamese chef, Nguyen says everyone is welcome to sit at the pho table and enter the pho kitchen. She's seen it with her own eyes. 
"I've been in pho restaurants in staunch Vietnamese communities where the cooks are Latino and I've heard them speak Vietnamese," Nguyen said. "When I hear them say only Vietnamese can cook it, I think it's bullshit because I've seen otherwise." 
But both Nguyen and Maningding agree that someone from another culture must approach cuisine with a certain level of respect. Nguyen cited famous Thai chef Andy Ricker as an example of a white chef who is highly respectful of Thai culture and Thai dishes. (When asked how to order Thai food in an interview, Ricker suggests you go by what patrons order and the restaurant suggests, not Ricker's own suggestion.) 
For Maningding, though he is sad that people are attacking the business on Yelp, he hopes this encourages people to seek out other nearby Vietnamese-owned restaurants, and for media to highlight businesses owned by Vietnamese people, as well. 
"In the time it took me to look up this guy on Yelp, I found five other pho places that you could've interviewed," he said. "He knows he should have said, 'Maybe you shouldn't interview me, maybe you should interview one of those family-owned places that have been here for 20 years. Maybe I don't need the publicity, maybe they do.'" 
Maningding and Nguyen both said this incident shows that Asian people should be given more room to speak up about Asian cuisine, as well. 
"When Asian people talk about how their food should be, then we're seen as sensitive," he said. "But if you put ketchup on a Chicago dog, you'll be kicked out of the restaurant." 
Nguyen said that, while the food world may have lacked Asian voices before, there's no reason for that to be the case in 2016. 
"Asians go out and eat, we have money, we don't have to be silent," she said. "Our dollar is worth just as much as everybody else's."