Whether you believe Amanda Knox or not, Netflix has a trailer for you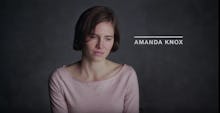 While Netflix created a dialogue about the potential innocence of Steven Avery in Making a Murderer — a case that was a relative unknown prior to the documentary — the streaming service didn't have to follow the same formula for its latest true crime documentary: Amanda Knox. 
Amanda Knox has intermittently appeared in the national spotlight since 2007, when she was first accused of murdering her roommate, Meredith Kercher, while studying abroad in Italy as a student. Since then, she'd spend years in jail before she was ultimately acquitted by the Italian Supreme Court — amazingly, the second time she was acquitted for the murder — in 2015. 
Put simply, Knox's murder case is extremely polarizing, so Netflix had a solution to promote the documentary: create separate trailers that paint the evidence for her innocence and culpability. Knox, who was interviewed for the documentary, summed up the hysteria around her trial best. 
"That's everyone's nightmare," Knox says in the "Suspect Her" trailer. "Either I am a psychopath in sheep's clothing, or I am you." 
For the filmmakers, Rod Blackhurst and Brian McGinn, who began working on the documentary in 2011, they said they didn't want to approach the story with their own agenda or bias. Rather, they'd provide the perspectives of those intimately involved in the case, including Knox. 
"What we found, editing the movie, is people make judgments based on how they feel and not on what actually is," Blackhurst told the Hollywood Reporter. "[That] influences how stories are told in the news and on social media. Living with this story for so long, and living with the changes that happened to these people in the case, allowed us to find that and end up with a conversation that is bigger than this story itself."
Amanda Knox will be available on Netflix Sept. 30.