Katy Perry surprises Pulse nightclub survivor in emotional meeting on 'Ellen'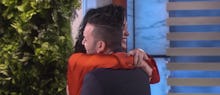 Thirty-year-old Pulse shooting survivor Tony Marrero joined Ellen Degeneres on Thursday to discuss what got him through his dramatic recovery after being shot four times inside the Orlando nightclub. He got through with the help of his boyfriend and playing Katy Perry's empowering anthem "Rise" on repeat.
So when Degeneres asked if he had the opportunity to meet Perry in person, Marrero was completely speechless. The pop star then walked out to a cheering crowd, as the two immediately began crying, hugging each other repeatedly and thanking each other for the inspiration. 
"I just want to say thank you for everything you do," Marrero told Perry. "Your lyrics to ["Rise"] helped me from the day I was in the hospital all the way until now. You're amazing." 
"Life isn't easy and you need little reliefs," Perry said. "I'm happy to be a joy. I'm happy to be a light, and I'm happy I could be there in my own little way to help you." 
The singer then further surprised Marrero by offering to personally fund the first year of his film school. The generous offer, along with Degeneres' Shutterfly-sponsored contribution of $25,000 to the official GoFundMe for the Orlando victims, brought Marrero even further tears.
Watch the extended interview before Perry's visit below: