How American restaurants fail to accommodate blind diners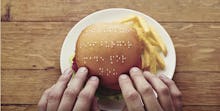 Going out to dinner is pretty much a way of life in the U.S. 
In 2015, for the first time ever, Americans spent more money dining out than buying groceries, Bloomberg reported. Eating at a restaurant is generally a relaxing experience — after all, there's no worrying about the cooking and the cleaning up. But that's not generally the case for a person who is blind or visually impaired. 
There are an estimated 22.5 million adults with vision loss in the U.S., according to the 2014 National Health Interview Survey. Even though that's more people  than the entire population of Florida, there are very few accommodations made for visually impaired customers at restaurants, other than being amenable to seeing eyes dogs. 
"Unfortunately, there is a real lack of awareness when it comes to serving blind customers," Nicole Noble, the director of sales at National Braille Press, an organization dedicated to spreading braille literacy, said in a phone interview. This lack of awareness is so great that it's not often enjoyable to eat out, John Heath, a blind restaurant-goer from Montreal revealed in an email. 
Reading the menu
The menu is one of the biggest hurdles a blind patron faces. Few restaurants actually offer braille versions of their menus. "The majority of restaurants have ramps for wheelchair customers to get around," Noble said. "Even though having braille menus for blind patrons is pretty much the same thing, most places just don't offer them." Heath echoed that sentiment: "I have never really encountered any restaurants that offer a braille menu, sadly." 
The fact of the matter is restaurants are not legally required to provide braille menus. "While the Americans With Disabilities Act requires restaurants to provide blind customers with a menu they can read, there is a major loophole," Noble said. "If the restaurant has its menu available online, where a blind patron can access it electronically, they don't need to provide a braille version in the establishment." 
When Mic reached out to a number of high-end restaurants around the country, none said they had braille menus or any protocols for accommodating blind customers in place. 
This is not to say that it is impossible to find braille menus. Major chain restaurants, which typically have locations nationwide and serve a greater portion of the population, often carry this option. "Olive Garden has had braille menus for over 15 years as part of a commitment to providing a comfortable dining atmosphere for all guests," Jessica Dinon, the chain's manager of public relations and communications, said in an email. Bloomin' Onion slinger Outback Steakhouse also provides braille menus "upon request," a spokesperson noted in an email. 
Starbucks  offers not only braille menus, but also braille gift cards. CEO Howard Schultz decided to add braille menus at all locations after visiting a location in Japan, a spokesperson for the coffee chain said in an email. He encountered a handmade braille menu at the store that was created for a blind customer who "was ordering drip coffee only because he was not aware of the other options available," the spokesperson said.
Providing braille menus is only half the battle. Unfortunately, employees don't always know where they are, Noble said. "We have a number of blind staffers at the National Braille Press who have told me that when they ask for braille menus at Starbucks, often times the barista doesn't know where to locate them, making the braille menus ineffective." 
While a braille menu might seem like no big deal to most people — it's just a piece of paper after all — it can make a world of difference to a blind diner. Without a specialized menu, blind customers lose a sense of independence. They often have to have someone else read the menu to them — typically a dining partner or a server — Noble said. "Servers are often in a rush as well and can't read them the entire menu," she added. "Instead, they will ask the blind customer about what kinds of food they like and offer up suggestions that way."
This is limiting to vision-impaired patrons. "Blind people want the same experience and ambiance at a restaurant as everyone else and want to be able to look over their menus, too," Noble said. Not being able to read the menu often prevents those with vision loss from dining solo. "It is tough to go to a restaurant without a companion and I find I often don't go on my own," Heath revealed. 
So why doesn't every restaurant carry a braille version of its menu?
Unfortunately, braille menus aren't simple to print. First, a restaurant must send over its menu to a service that can translate the menu into braille. This translation gets checked for accuracy and transcribed by specialists before it is sent to a place that has a braille printer, Noble explained. National Braille Press is one of the few places that offers all of these services in house. 
The organization has run a number of campaigns, especially in the greater Boston area, to increase awareness about braille menus and how restaurants can get them printed, Noble said. And these campaigns have generated interest, she added. 
Still, the menus can be a bit cost prohibitive. A braille menu can cost around $125 to produce (depending on its size), and that is a tough expense for chefs and owners to swallow, considering that restaurants operate on notoriously small margins. Not to mention, this cost only goes up if the restaurant has a menu that frequently changes. However, as the number of restaurants with braille menus increases, the cost will likely go down. 
Braille menus wouldn't fix everything. 
The simplest thing restaurants can do to cater to blind patrons is to teach staff to recognize the needs of blind customers. Ordering food is just one of the hurdles blind patrons face. Another one? Not knowing where things are on the table. "The toughest part of dining out for me is knowing where the server is and what exactly the server has brought to the table," Heath noted. "I wish restaurant staff would indicate where food is on the plate or a table, too." 
"I think telling blind customers where the washroom facilities are as soon as they sit down [makes the dining experience easier]," Heath added. Other accommodations he thinks could be useful would be asking diners if they would like their food cut into bite-sized pieces. This would not only make the food easier to eat, but would save the customer from having to fiddle with a knife or having to ask a companion to cut their food. 
The solution simply comes down to awareness. Taking a couple of hours to train staff isn't a massive burden on the restaurants, either. Employees are already trained to use equipment and serve alcohol responsibly, so adding another lesson to the curriculum could be worth everyone's while. The overall experience at a restaurant can often outweigh the food itself, so if a restaurant makes sure to accommodate a blind diner, they will likely have a repeat customer — and that is very good for business. 
• Sept. 9, 2016, 3:51 p.m.: This story has been updated.