Wells Fargo gets a record-setting fine for roping customers into fake accounts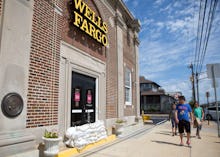 Wells Fargo, the largest bank in the world in terms of market capitalization, was just handed the largest fine in the history of the Consumer Financial Protection Bureau, a government watchdog set up in the wake of the 2008-09 financial crisis, according to a statement from the CFPB. 
According to the CFPB, Wells Fargo employees illegally opened up accounts on behalf of clients without their knowledge in order to meet sales targets. 
At $100 million, it's the agency's largest fine ever, CFPB President Richard Cordray said in a prepared statement, and Wells Fargo has other liabilities as well. 
The bank will have to pay $35 million to the Office of the Comptroller of the Currency, and another $50 million to the City of Los Angeles — bringing its total penalty to $185 million.
Wells Fargo will also have to issue refunds to any customers affected, a sum which is expected to reach $2.5 million.
According to the CFPB, there have been roughly 1.5 million deposit accounts and more than 500,000 credit card accounts that were set up without authorization from customers. 
Representatives from the bank allegedly set up false email addresses and pin numbers as well, per the CFPB statement. 
"Wells Fargo reached these agreements consistent with our commitment to customers and in the interest of putting this matter behind us," a Wells Fargo spokeswoman said in an emailed statement to Mic. 
"We regret and take responsibility for any instances where customers may have received a product that they did not request."
This is the second time the CFPB has taken action against Wells Fargo in less than a month: In August, the bank had to refund $400,000 to customers of its student loan servicing wing it illegally overcharged.