The best iPhone 7 and iPhone 7 Plus accessories so far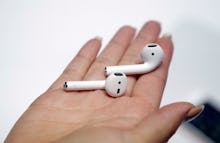 The world finally got its first glimpse of the iPhone 7 and iPhone 7 Plus on Wednesday, but accessory designers has already been preparing for Apple's announcement for some time. Amazon even "leaked" a number of iPhone 7 gadgets minutes before the event, accidentally showcasing a number of cases, headphones and charging wires ready for purchase.
Now that Apple's new smartphones are confirmed, let's take a look at some of the most exciting new options:
USAMS Wood and Leather Lightning Cable
With all this bravado about Lightning cables being superior to headphone jacks, let's not forget that Apple's darling connector has a major flaw: The cords break so easily. USAMS' braided leather cable is a much sturdier option, complete with a wooden housing that protects against corrosion. Plus it's gorgeous. It may not be iPhone 7-exclusive, but it's a welcome change in the era of Lightning. 
Apple AirPods
Look, we've all seen the jokes and we're not yet prepared to say Apple's new headphones will be worth buying, but they're certainly exciting. Wireless Bluetooth headphones have been around for some time, but they were a niche market limited to tech heads. By adopting this technology and pushing it into the mainstream, Apple could permanently change the way people listen to audio on the go. Besides the cultural significance, some of the features are genuinely useful. The AirPods have intuitive sensors, connection to Siri and high-quality AAC sound.
LifeProof Cases
LifeProof has built a reputation for being one of the most reliable crafters of iPhone cases, and the iPhone 7 is poised to be no different. Each LifeProof case provides protection from the "elements," including water (up to 6.6 feet for an hour), dirt, snow and drops up to six and half feet. The iPhone 7 and iPhone 7 Plus cases are expected to be made available for preorder later this month.
Beats Solo3 Wireless Headphones
A new line of Beats, which is owned by Apple, was also announced at the Apple Keynote. One that particularly stood out was the Beats Solo3, which is great alternative to the AirPods if you prefer the larger, over-ear look. The Beats Solo3 are capable of running for an astounding 40 hours and require just five minutes of charging to generate three hours of battery life.