Hillary Clinton recalls a gut-wrenching encounter with sexism for Humans of New York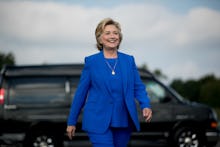 After Hillary Clinton was criticized — for perhaps the millionth time — on Wednesday for not smiling, she called out Republican National Convention Chairman Reince Priebus, telling him she was merely taking "the office of the President seriously."
Clinton has combatted sexism head on throughout her campaign — but never before like she did on Thursday, in an emotional post for Humans of New York where she recounts one of her worst run-ins with misogyny in college.
When Clinton and her friend, the only two women in the room, were waiting to take an admissions exam for Harvard Law School, a group of men made it clear they didn't belong.
"... While we're waiting for the exam to start, a group of men began to yell things like: 'You don't need to be here.' And 'There's plenty else you can do,'" Clinton recalled. "It turned into a real 'pile on.'"
In the face of these virulent insults, Clinton said she kept quiet, she didn't want to let them get to her and have it affect her performance on the test.
"I know that I can be perceived as aloof or cold or unemotional," Clinton said. "But I had to learn as a young woman to control my emotions."
Clinton maintained that it's hard to strike a balance between protecting herself and seeming "walled off," a criticism she's had to face not just throughout the presidential campaign, but during her decades in public office. Still, she admitted she understands why some people see her as guarded, and she doesn't fault them.
"I don't view myself as cold or unemotional," Clinton continued. "And neither do my friends. And neither does my family. But if that sometimes is the perception I create, then I can't blame people for thinking that."